Book your Daily Thanthi Newspaper Classified Ads Instantly Online :
Book your Daily Thanthi Newspaper Classified Ads Instantly Online :
Online Newspaper Ad Booking
Lowest Ad Rates
Save Upto 50% via Discount Packages
Instant Confirmation & Release
F.A.Q
Frequently Asked Questions
The rates for classified ads in Daily Thanthi vary depending on location and type of classified ad. Classified ads are of two types:
Classified Text Ads are simple text advertisements and are charged according to the number of words and the number of lines used. Classified text ads also include the option to add enhancements, for which extra charges apply. The enhancements you can choose from are:
Borders
Background colours
Tick marks
Classified Display Ads include richer formatting for text advertisements. These advertisements are charged on the basis of square centimetres occupied. Classified display ads include:
Colours
A variety of fonts
Images and graphics
Booking your ads in Daily Thanthi through releaseMyAd is quick and hassle-free. Just follow these simple steps to get your ad published in Daily Thanthi:
Select Newspaper

From our list of available newspapers, select the newspaper you wish to advertise in.

Select Category

Select the category of advertisement you want to book.

Select Ad Type and Location

Choose between classified text ads and classified display ads and select the location for your ad.

Select Preferences

If you have any preferences or special requirements, do let us know in the panel provided.

Write Your Ad

Compose the text for your classified ad, and enhance with borders or background colours if you wish, and check the preview of your ad.

Select Dates and Make Payment

Select the dates and the duration for which you want your ad to run, and proceed towards the payment section. Once you have made your payment, you will receive an instant email confirming that your payment has been made.

Receive Invoice
Upon successful payment for your classified ad, you will receive an invoice with the full details of the ad you have booked with us.
The deadline for booking classified ads in Daily Thanthi is typically 1 day prior to the date chosen for publishing. However, the deadline may differ for specific categories of classified ads.
Composing your classified on our platform is extremely easy and quick. For your convenience, we have included some sample ads for you to refer to in case you need help composing your ad. Here are some of our recommendations to help you make your classified ad get noticed by your target audience:
Make Your Headline Stand Out
They say first impressions make the biggest impact, and your headline is what your readers shall first see. It is therefore essential to capture the attention of your readers with an attention-grabbing headline.
Write a Captivating Message
Having attracted your reader's attention, now you must tell them what you are offering. Be crisp and concise, and make your ad content highly targeted to your target audience.
Provide a Convincing Call to Action
Make sure you include a call to action in your ad copy. A call to action is what you want your readers to do after reading your ad. Keep your call to action clear and simple.
Ad Formats in Daily Thanthi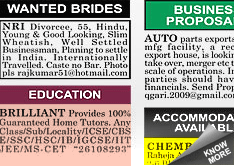 Simple text format of advertisements charged on the basis of the number of words, lines or characters used in the ad matter. Enhancements like a tick, border, color, and bold fonts can be used in this pocket-friendly and economical form of advertisement.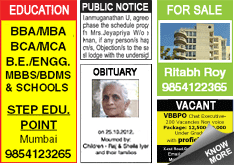 A better way to exhibit advertisements in newspapers which include catchy graphics, image, logo, colour, fancy font making ads more visible to the readers. This great way of advertisement that helps the advertisers to grab the attention of the target audiences is changed on the basis of per sq.cm unit.
Reasons
Why advertise in Daily Thanthi Classified?
Classified Text Ad, as the name suggests, consists of text/words/characters with no images. The text could be highlighted using fonts, colours, or background. Publishing classified text ads in Daily Thanthi newspaper is beneficial for the following reasons:
Impressive Reach: Daily Thanthi has a circulation of 1,667,442 copies daily as per the audit bureau of circulation.Daily Thanthi is the ninth most circulated newspaper in India across 16 cities in India.
Economical: It is the most cost effective mode of advertising. The minimum classified ad rates in Daily Thanthi starts at Rs 400.
Perfect Platform to reach the Tamil Community: Advertising in Daily Thanthi can help you to generate maximum responses.
We can book your Daily Thanthi classified ads in major cities of India namely Bangalore, Chennai, Mumbai, Pondicherry, Coimbatore, Cuddalore, Dindigul, Erode, Madurai, Nagercoil, Salem, Thanjavur, Tiruchirapalli, Tirunelveli, Tirupur, and Vellore.
Daily Thanthi, the popular Tamil newspaper helps advertisers to reach out to the entire population of South at one go. By placing a classified ad in the newspaper you can easily fulfill your advertising goals. Daily Thanthi provides a great platform for advertisers to communicate effectively with the target audience.
Daily Thanthi Classified Ad Rates :
Daily Thanthi Classified Ad Rates :
Location
Circulation
Cost
View Details

Edition:

Chennai

Ciculation:

482,722

copies

Price:

Rs.

1820

/4 Lines

Edition:

Tirunelveli

Ciculation:

129,423

copies

Price:

Rs.

336

/4 Lines

Edition:

Madurai

Ciculation:

124,439

copies

Price:

Rs.

396

/4 Lines

Edition:

Coimbatore

Ciculation:

122,795

copies

Price:

Rs.

432

/4 Lines

Edition:

Nagercoil

Ciculation:

104,284

copies

Price:

Rs.

232

/4 Lines

Edition:

Trichy

Ciculation:

99,732

copies

Price:

Rs.

324

/4 Lines

Edition:

Salem

Ciculation:

97,798

copies

Price:

Rs.

376

/4 Lines

Edition:

Thanjavur

Ciculation:

89,395

copies

Price:

Rs.

324

/4 Lines

Edition:

Erode

Ciculation:

81,723

copies

Price:

Rs.

220

/4 Lines

Edition:

Cuddalore

Ciculation:

69,330

copies

Price:

Rs.

220

/4 Lines

Edition:

Vellore

Ciculation:

63,433

copies

Price:

Rs.

244

/4 Lines

Edition:

Bangalore

Ciculation:

61,322

copies

Price:

Rs.

136

/4 Lines

Edition:

Dindigul

Ciculation:

51,258

copies

Price:

Rs.

206

/4 Lines

Edition:

Pondicherry

Ciculation:

27,819

copies

Price:

Rs.

220

/4 Lines

Edition:

Mumbai

Ciculation:

19,369

copies

Price:

Rs.

88

/4 Lines
Advertisement Section
Publishing Days
Booking Deadline
Daily Thanthi Classified
Sunday,Monday,Tuesday,Wednesday,Thursday,Friday,Saturday
2 day(s) Prior
Ad Categories: Matrimonial, Property, Recruitment, Public Notice, Obituary, Education etc.
Booking Process
How to Book Classified Ad in Daily Thanthi Newspaper ?
The ad booking portal of releaseMyAd is designed in a unique way, it lets you book your Daily Thanthi Classified ad in just few simple steps-
Select Newspaper – Select Daily Thanthi to publish your ad.
Choose Ad Type – Choose 'Book Classified Text Ad or Classified Display Ad'
Choose Catergory – Daily Thanthi offers several categories to advertise in such as matrimonial, obituary, business, etc. Choose your desired category.
Choose a location – Specify the where you want the ad to come out (Mumbai, Bangalore)
Compose the ad – Draft the ad and upload the material in relevant format.
Select a date and make payment – Pick a date for the ad to be featured and clear payment through Credit/Debit card. You could also opt for offline payment mode.
In Daily Thanthi advertisers can book ads in two different formats classified text and classified display. The charges of these forms differ due to the difference in their ad formats.
Classified text ads in Daily Thanthi are published in a simple running text. They are charged on the basis of per lines used in the ad content. To increase the visibility of your ad you can add enhancements like colors, tick marks, borders by paying a little extra amount.
Classified display ads in Daily Thanthi are charged on the basis of per square centimeter. You can include different images, logos, fonts in your ad. For black and white or color advertisements, the cost may vary.
releaseMyAd is the leading newspaper classifieds ad booking platform in India authorized by INS, the main governing council of media publications. The publication house sends us direct ad rates which are the cheapest. Our ad booking portal is the easiest and convenient way to book classified advertisements in newspapers.

How to book classified ads in Daily Thanthi online?
releaseMyAd helps advertisers to book classified ads in Daily Thanthi at lowest rates. Our years of experience help us to negotiate for the best rates that are available in the market. Also, we help advertisers to plan and choose locations that are best suitable according to their needs.
Hurry up! Book your classified ad in Daily Thanthi today and get special discounts and exciting offers only with releaseMyAd!
Info
About Daily Thanthi
Daily Thanthi, the leading Tamil daily newspaper is printed in 16 cities across India and in Dubai. It is the ninth largest newspaper daily of the country in terms of circulation and readership. The broadsheet carries latest news reports on national and global affairs, business, sports, education, health, fitness etc. The newspaper also publishes special supplements that focus on a particular subject like recruitment, property, matrimonial and so on. Daily Thanthi has a strong reader base because it covers diverse topics that interest people of all age groups. Thereby, classified ads in this Daily Thanthi is the first choice of individuals and businesses who wish to reach the Tamil community.